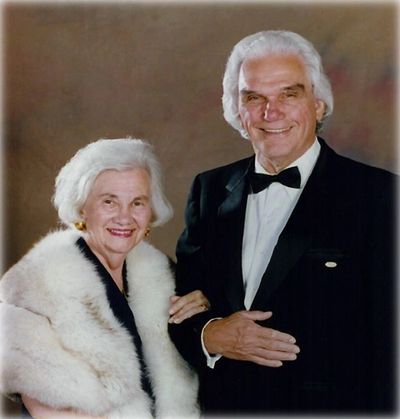 Life Foundation, Inc. an IRS-approved 501-C (3), was founded in 1965 by Drs. Sid and Nell Williams as a nonprofit chiropractic organization dedicated to the purpose of service, education, and research. The history of Life Foundation would not be complete without the awareness of its founder, Dr. Sid Williams. Sid Williams grew up in Atlanta's West End and was an only child. Throughout his childhood, his mother insisted on perfection and repeatedly told him that he would one day be the president. Ultimately he did hold the presidency of numerous organizations however not the one that his mother had intended. During his primary school years, he became involved with the Boy Scouts of America. He earned the rank of Eagle Scout with bronze and silver palms. The Boy Scout Code of Honor became a motto that would carry forward throughout the rest of his life.
He attended Tech High where he excelled in everything in which he was involved. Upon graduation from high school, he was offered scholarships from 12 universities including the United States Naval Academy and West Point. He accepted the scholarship from the Georgia Institute of Technology and followed suit with his previous quest for excellence. During his tenure at Georgia Tech, Coach Bobby Dodd was quoted in the Atlanta Journal by stating "Sid Williams is the best end for his size in America" (Pope). During his high school and college years, Williams suffered from migraine headaches of which no solution could be found via the medical route. Due to plentiful football injuries over the years and the injuries sustained during the Georgia Tech Orange Bowl game (1951), he turned to chiropractic for his ongoing headaches. The results were unparalleled and his headaches disappeared. Williams was so excited about the results he received after just one upper cervical adjustment (he never had another headache for more than 60 years) that this was the turning point in which he decided to become a chiropractor.
Sid Williams and Nell Kimbrough were married in 1953 and spent their honeymoon driving to Davenport Iowa to attend Palmer Chiropractic College. Williams spent countless hours reading books written by B. J. Palmer, so much so that in many cases he wore the cover off – an intense quest for understanding "The Big Idea." It was at Palmer College that Sid first got the idea of building a chiropractic college in the South (Bean 50). Many times he talked about starting a college to train more chiropractors, but Nell reminded him "let's get our degrees first." Meanwhile, there were no student loans or additional family support, so both of them worked three jobs in order to pay the tuition. She worked in the restaurant industry while he entered sales. As a determined young man, he was discontent with his sales performance until he had a mystical experience while selling Wear-Ever cooking utensils. During a sales presentation, an intense feeling of love for the cookware came over him to the point that there was no thought – just feeling. This oneness with the cookware would prove to be an epiphany, which shaped his future endeavors- chiropractic and otherwise.
Drs. Sid and Nell opened a chiropractic practice in Austell GA which quickly grew to 19 clinics throughout the Southeast. This included seven clinics serving the African American communities in Atlanta called the Triple H Chiropractic Health Centers; the three "H's" representing "Health, Harmony and Happiness." Their practices grew on the policy that everyone should be treated with love and compassion in a professional manner, and that no one should be denied chiropractic care because of an inability to pay or the color of their skin. Albeit the late 1950's and early 60's was a time of intense racism and segregation throughout the South, Dr. Sid only saw the need to serve humanity by providing chiropractic care to all people of all races. At their Austell clinic, they held lay-lectures for patients and people would travel for hundreds of miles to attend. Separate meetings with local chiropractors were held at the clinic to discuss chiropractic philosophy and how to combat attacks from the medical profession. Chiropractors were known as "unscientific cultists" by the American Medical Association and it was considered unethical for a medical doctor to associate with them (Williams 24-25). At this juncture, there was no insurance equality, and practices were managed on a cash-only basis. Si-Nel Publishing Company, founded in 1957 by Drs. Sid and Nell, produced editorials, pamphlets, and brochures on chiropractic. In addition to publishing, they began running ads throughout the country on the benefits of chiropractic and advertising free X-rays. It was considered unprofessional to advertise. Because of their unpopular effort to help people and massive mail-outs to the public, the Williams were denied memberships in several organizations and threatened to have their licenses revoked. Dr. Sid continued to generate controversy by his dedication to upholding the rights of the sick – to choose the doctor and method of their choice and serving all people equally regardless of their ability to pay. Their burning passion to Love for the Sake of Loving, Give for the Sake of Giving, and Serve for the Sake of Serving was soon to be called the Lasting Purpose philosophy – a message that came to Dr. Sid in the middle of the night. This lifestyle requires a commitment to love, give and serve out of one's own abundance with no concern about financial gain or recognition.
Drs. Sid and Nell went into the real estate business in early 1960 with the purpose of raising money to build the college in the South. But by mid 1960's, due to weather-related issues, the real estate venture went belly up and creditors began harassments. They found themselves in unfathomable debt; lost their home and car, the business burned, and then Dr. Sid became sick for a period of almost four years. Meanwhile, the chiropractic profession was divided and still faced with an ongoing battle of prejudice and hostility from the medical community. There was a need for unity among the chiropractic profession aside from the harangue of politics, office procedures, and technique; thus the unfolding of Life Foundation – an organization dedicated to supporting chiropractic education, research, and service. In June of 1964, the first meeting of Life Foundation was held with Drs. Sid and Nell and five other local chiropractors. And in November of 1965 Life Foundation was incorporated under the laws of the State of Georgia. In that same year (1964) Drs. Williams began holding educational motivational seminars called Dynamic Essentials, for laypeople, students, chiropractors, chiropractic assistants, and families of chiropractors. The Lasting Purpose application was the basis for the seminars as well as the philosophy and principles professed by B. J. Palmer who had recently passed away (1961). The meetings grew rapidly under Dr. Sid's leadership and began to attract large numbers of chiropractors from around the US, Canada, and many other countries. It became known as the Life Movement, Life Source, The DE Movement, and Life DE; each being synonymous with Dr. Sid.
Money was raised through Life Foundation, particularly at the DE meetings, to educate the public on the benefits of chiropractic. One of the first projects funded by the Foundation was the publication of Health for Life, a tabloid newspaper containing articles and photographs of chiropractic patients that had experienced outstanding results under chiropractic care, which ultimately was distributed by chiropractors and read by millions of their patients. Today's Chiropractic Magazine rolled out in 1966 in which Dr. Sid announced the plans for the "City of Life" and "Life University" projects (Williams 1). Life Foundation also printed publications featuring the Best of Health for Life and a No Smoking pamphlet and produced a TV spot which was endorsed by celebrities such as Robert Goulet as a public service announcement. Another early project of the Foundation was the purchasing of x-ray films and providing them to chiropractors who sponsored free x-rays to needy patients.
Fund raising efforts began for the purpose of building a chiropractic clinic on wheels consequently Life Foundation established the Health Mobile, which was a modern, completely equipped, chiropractic clinic on wheels. This free service program introduced thousands of people in the USA to the benefits of chiropractic as it traveled from state to state. Eventually, the Health Mobile was utilized as a health clinic in an underprivileged part of downtown Atlanta where chiropractic services were provided free of cost to the underprivileged and needy. After hundreds of lectures all over the country and nearly 20 years since the idea, in 1974 Dr. Sid began the important step of organizing (through Life Foundation) for the needed chiropractic college to be located in America's southland. The July 1974 DE response was enthusiastic; donations poured in, generally in the form of pledges, and volunteers signed up to help with the project. In 1974, Dr. Sid Williams, along with his wife Dr. Nell Williams, founded Life Chiropractic College. The charter was signed in September with four initial board of directors (Dr. Sid E. Williams, Dr. Nell K. Williams, Dr. Ed Ambrose, and Dr. D.D. Humber). Life Foundation continued to focus its fundraising efforts on research and education resulting in donations to Life Chiropractic College and later Life Chiropractic College West in amounts in excess of $150,000 annually. Life Foundation, along with Life Chiropractic College and Life University, co-sponsored numerous humanitarian projects. Among these are chiropractic clinics in Egypt, Korea, and China, Costa Rica as well as several other countries. Another humanitarian project was providing chiropractic services during the Goodwill Games in Moscow, USSR. Through the years, Life Foundation has had a significant impact on chiropractic service, education, and research in the United States as well as numerous other countries around the world.In 2004 Life Foundation expanded its mission to reach out to the community beyond the chiropractic profession in order to promulgate the Lasting Purpose philosophy and lifestyle. In 2010 the mission was further refined to focus on college students and therefore identify future leaders who embrace the Lasting Purpose way of life. Currently, Life Foundation invests in future leaders by providing much-needed assistance for their educational needs …one college student at a time.
Works Cited:
Bean, Ed. "Life of a Salesman." Georgia Trend Sept. 1989: 48-53. Print.
Pope, Edwin. Atlanta Journal-Constitution 28 Sept. 1951. Print
Williams, Sid. "An Interview with Sid Williams." ICA International Review of Chiropractic Autumn Winter 1982: 21-36. Print.
Williams, Sid. "Most Vital DE Meeting Sept. 22-25 In Atlanta." Today's Chiropractic 1.1 1966: 1. Print.
SEEKERS: Visit our photo page for access to numerous articles and publications.